---
Starting
July 14, 2014
- Ending
July 27, 2014
Expired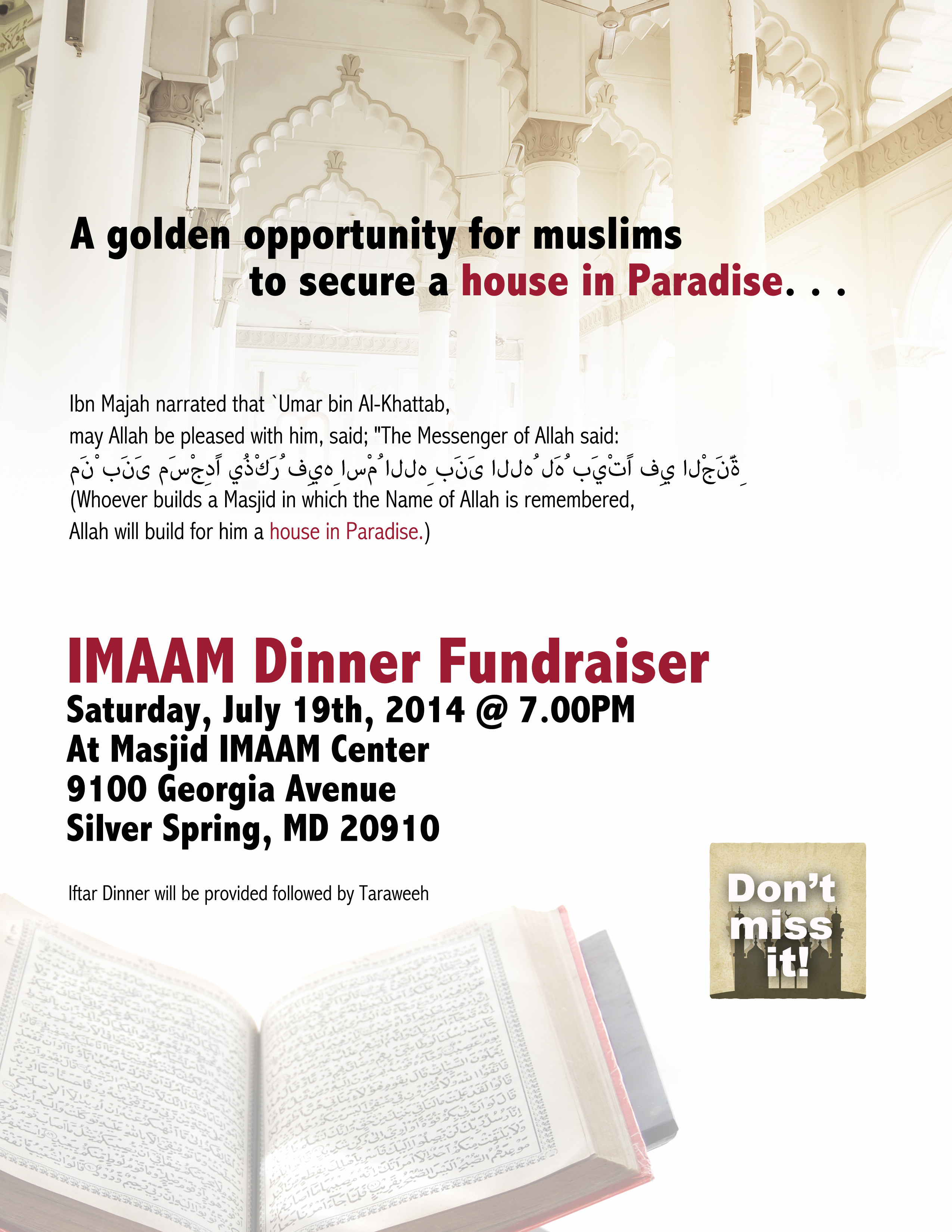 Starting
July 7, 2014
- Ending
July 27, 2014
Expired
Starting
June 26, 2014
- Ending
July 3, 2014
Expired
Starting
March 29, 2014
- Ending
July 31, 2014
Expired
Starting
March 13, 2014
- Ending
March 30, 2014
Expired
Join us for a Youth Gathering with Brother Alejandro Beutel.
Please see the details below. JazakumuLlaah khoiron katsiro.

Starting
February 28, 2014
- Ending
March 30, 2014
Expired
Bapak dan Ibu yang dimuliakan Allah SWT,
Seperti kita sudah dengar beberapa waktu lalu, bahwa sudah dibicarakan tentang program kesehatan dari President Obama (Obamacare). Banyak hal yang masih menjadi pertanyaan buat kita semua tentang program ini.
Mengingat saat ini pemerintah US mewajibkan semua orang harus memiliki Health Insurance, maka kita harus tahu tentang undang-undang ini. Acara ini ditujukan buat yang sudah atau belum punya Health Insurance.
IMAAM mengundang pembicara dari Health Department, Montgomery County MD untuk presentasi tentang OBAMACAREyaitu : Ms. Hawa Barry (the ACA Navigator/ Affordable Care Act). Informasi lebih lanjut, silakan lihat flyer di bawah ini.
Starting
February 26, 2014
- Ending
March 18, 2015
Press Release from IMAAM regarding grant from for the purchase and renovation of IMAAM Center in Silver Spring, MD.
Assalamu'alaikum,
Please promote this IMAAM Center PSA Video and donate generously for IMAAM Center. May Allah reward all of our effort, and thank you for making this video.
Wassalam.